DisSonata, Hunters and Hunted / Jäger und Gejagte, group exhibition catalogue, Museum Villa Rot, Hardcover, 96 pages deutsch/english, ISBN 978-3-943391-03-9, 2012

text von Bignia Wehrli
In eurer Gesellschaft jedoch, oh ihr meine kleinen Grillen, spüre ich den Schauer des Lebens…" (Jean-Henri Fabre, Erinnerungen eines Insektenforschers)
Mit vehementen Bogenstrichen eröffnet sie ihren Weg und verwickelt sich in ihrem mal zügig voranschreitenden, mal tänzerisch mäandernden Lauf in ein immer streitlustigeres Selbstgespräch. Im zweiten Satz der Sonate für Solo Violine -Fuga, Risoluto, non troppo vivo– brechen Dissonanzen die Atmosphäre der anfänglichen Harmonie des Stücks. Das Werk (Dis)Sonata entstand in Bezug zu diesem besonderen Violinstück -eines der letzten vollendeten Werke von Béla Bartók- und setzt die Musik in einen völlig unerwarteten Kontext: Der handgefertigte, raumgreifende Lautsprecher, aus dessen Gehäuse die Sonate singt, entpuppt sich beim näheren Herantreten als ein von mediterranen Grillen behaustes Biotop. Schaut man durch die ausgesägten Löcher in den Lautsprecher hinein, eröffnet sich dort eine zart beleuchtete Miniaturwelt aus Baumwurzeln, Steinen, Kakteen und einer Wärmelampe. Der von kleinen Wesen bevölkerte Lautsprecher zirpt.
Doch wird der zum Leben erweckte Lautsprecher dadurch selbst auch Hörpunkt. Während die in ihm wohnenden Grillen gezwungen sind, der Geige zu lauschen, bleiben ihre Gesänge für die Ohren des Geigers unhörbar in der Zukunft verborgen. Denn das Zwiegespräch, welches sich hier scheinbar ereignet, setzt die Tonspur einer Violine mit dem sich aktuell zutragenden Stridulieren -dem Lockgesang- unzähliger Grillen in Interaktion. Ein zwischen das Zirpen und die Geigenstimme geschalteter Harmonizer mischt sich dabei fortwährend vermittelnd ein und versucht die Tonhöhe der Sonate an die Zirpfrequenz und das Zirpen an die Noten des Violinspiels anzugleichen. Er dreht dabei selbst, von der Vielzahl der Töne überfordert, frei.
Jeder "Akteur" in diesem unmöglichen Dialog, sei es der "verwirrte" Harmonizer oder das zirpende Insekt, erscheint menschlich in seinem dringlichen Wunsch sich mitzuteilen und verzweifelt um Gehör zu suchen. Die Künstlerin setzt sie alle dabei Extremsituationen aus: die Sonate der Verzerrung, den Lautsprecher den Grillen, die Grillen der Geige, den Harmonizer einem Überfall von Tönen.
Evgenija Wassilew konstruiert eine Gesprächssituation, die über distante Zeiten und über die Kluft zwischen Intelligenz und Instinkt hinweg, Brücken zwischen Mensch und Ding, Kultur und Natur spannt und die Grenzen der Kommunikation zu sprengen versucht. Ähnlich dem Insektenforscher Fabre vermag der Betrachter dieses Schauspiels sich dem "Schauer des Lebens" nicht zu entziehen.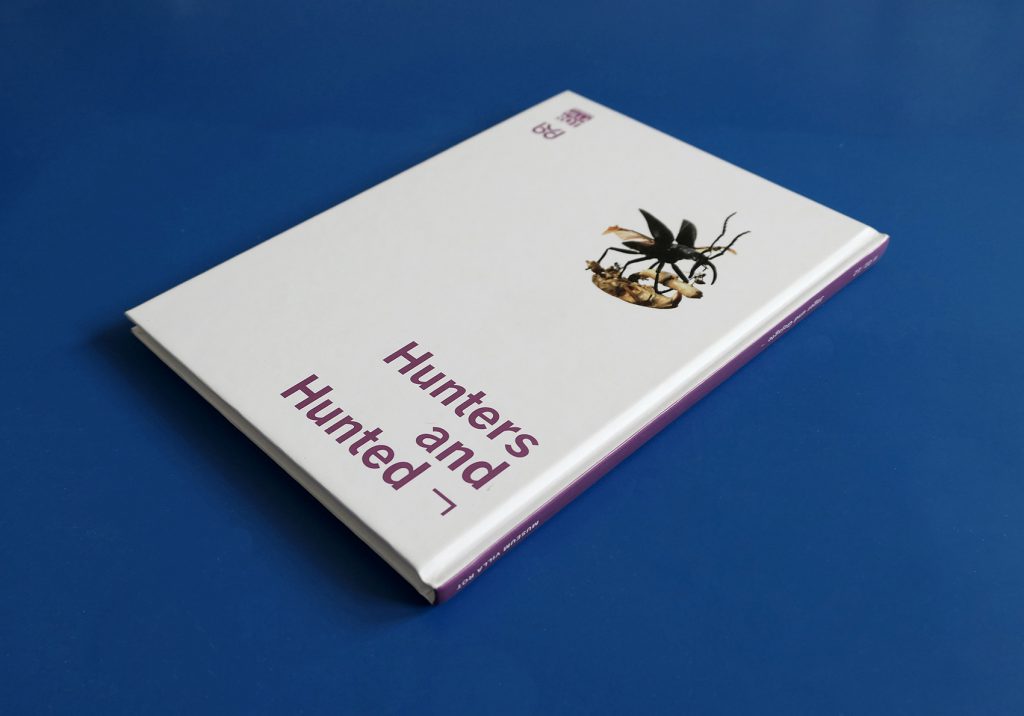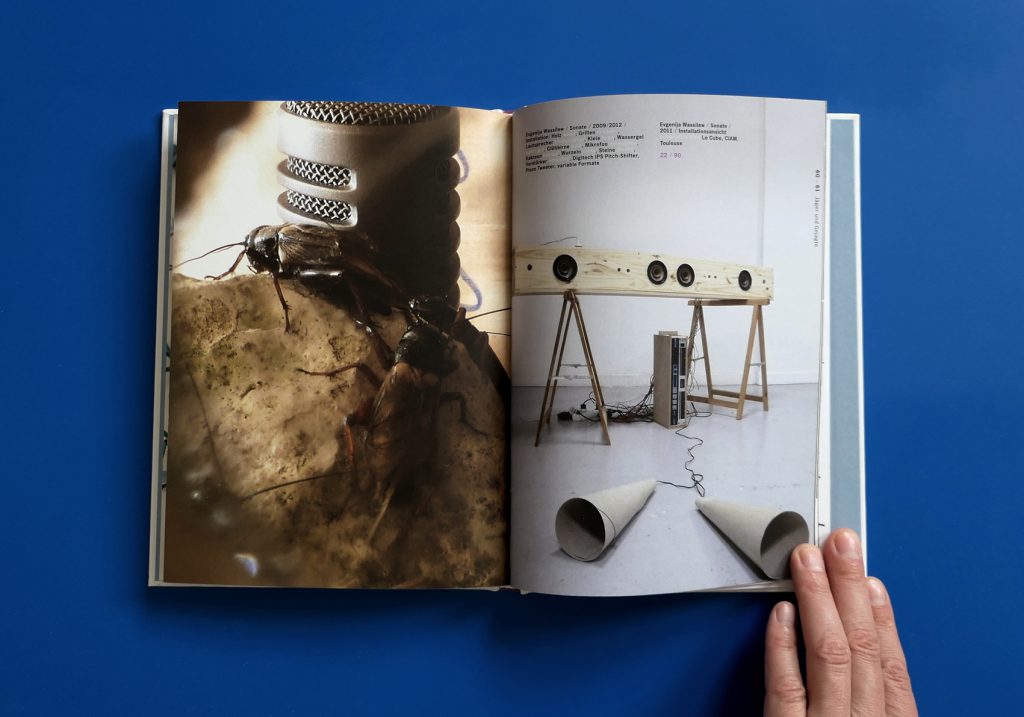 DisSonata, Hunters and Hunted / Jäger und Gejagte, group exhibition catalogue, Museum Villa Rot, Hardcover, 96 pages deutsch/english, ISBN 978-3-943391-03-9, 2012
text: Bignia Wehrli
english translation: Tanja Diamant
"But in your company, O my Crickets, I feel the shiver of life…" (Jean-Henri Fabre, the Book of Insects)
It begins with intense bow streaks and during its quickly proceeding or dancingly meandering course it gets more and more involved into a combative monologue. In the second movement of the Sonata for Solo violin, Fuga – Risoluto, non troppo vivo – dissonances start disturbing the initial harmony of the composition.
The work (Dis)Sonate was influenced by this special composition for solo violin – one of the last completed works of Béla Bartók- and puts the music into a completely unexpected context: the expansive, hand-made wooden loudspeaker turns out to be a biotope that is populated by Mediterranean crickets. A look through the holes into the speaker discloses a softly illuminated miniature world with roots, stones, cactuses and a heat lamp. The speaker populated with small creatures is chirring.
Thus, the loudspeaker, brought to life, itself becomes a hearing point. Whereas the inside-living crickets are forced to listen to the violin, their chants are inaudibly hidden in the future for the violonist. The dialogue that seems to arise here initiates an interaction between the violin's playback and the momentarily happening luring sound of countless crickets. A mediating harmonizer intervenes permanently in order to adjust the tone pitch of the crickets to the violin's play or the violin's notes to the pitch of the chirps- and spins free, overwhelmed by the multitude of tones.
Each participant in this impossible dialogue, the "confused" harmonizer or the chirping insect, appears human in urgently trying to communicate and in desperately trying to make himself heard. The artist exposes all participants to extreme situations: The sonata is exposed to distortion, the loudspeaker is exposed to the crickets, the crickets are exposed to the violin, and the harmonizer has to cope with the overflow of sounds.
Evgenija Wassilew constructs a conversational situation that connects distant times, overwhelming the gap between intelligence and instinct, and builds bridges from human to object, from culture to nature; a conversation that tries to go beyond the limits of communication. Similar to the experience of the entomologist Fabre, everyone looking at this scenery will definitely not be able to escape the "shiver of life".